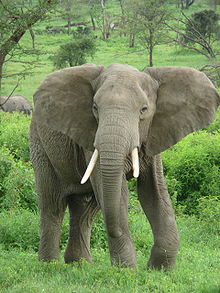 &nbsp

The African Bush Elephant (Loxodonta africana) is the larger of the two species of African elephant. Both it and the African Forest Elephant have usually been classified as a single species, known simply as the African Elephant. Some authorities still consider the currently available evidence insufficient for splitting the African Elephant into two species. It is also known as the Bush Elephant or Savanna Elephant.
Description
Edit
_________________________________________________
The African Elephant is the largest living terrestrial animal, normally reaching 6 to 7.3 metres (19.7 to 24.0 ft) in length and 3 to 3.5 metres (9.8 to 11.5 ft) in height at the head, and weighing between 6,000 to 9,000 kg (13,000 to 20,000 lb).
The largest on record, shot in Angola in 1965, was a bull weighing 12,274 kg (27,060 lb) and standing 4.2 metres (13.8 ft) high, the body of which is now mounted in the rotunda of the National Museum of Natural History in Washington, D.C.. (The museum's website states that the specimen weighs only 8 tons[4].) The Bush Elephant normally moves at a rate of 6 km/h (4 mph), but it can reach a top speed of 40 km/h (25 mph) when scared or upset.
[1][2]African Bush Elephant and her youngThe animal is characterized by its large head; two large ears that cover its shoulders and radiate excess heat; a large and muscular trunk; two prominent tusks, which are well-developed in both sexes, although more commonly in males; a short neck; a large, barrel-like body; four long and heavy legs; and a relatively short tail.
The animal is protected by a heavy but flexible layer of gray-brown skin, dotted with mostly undeveloped patches of hair and long, black hair at the tip of its tail. Its back feet have three toes that form a hoof, while the number of toes on the front feet have varied between four and five. The forehead is smoother and less convex than that of the Asian Elephant.
The trunk is the most characteristic feature of the African Bush Elephant. It is formed by the fusion and elongation of the nose and upper lip, forming a flexible and strong organ made purely of muscle.
Little scientific research has been carried out into elephants' cognitive or perceptual abilities. An exception is a recent report that African Bush Elephants are able to use seismic vibrations at infrasound frequencies for communication.
Conservation Status
|

Vulnerable