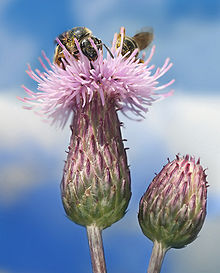 &nbsp

Cirsium arvense is a species of Cirsium, native throughout Europe and northern Asia, and widely introduced elsewhere. The standard English name in its native area is Creeping Thistle.
Alternative names
Edit
A number of other names have been used in the past or in other areas. Other names include Canada Thistle, Canadian Thistle, California Thistle, Corn Thistle, Cursed Thistle, Field Thistle, Green Thistle, Hard Thistle, Perennial Thistle, Prickly Thistle, Small-flowered Thistle and Way Thistle. The first two names are in wide use in the United States, despite being a misleading designation (it is not of Canadian origin).
Physical characteristics
Edit
It is a herbaceous perennial plant growing 30-100 cm, forming extensive clonal colonies from an underground root system that sends up numerous erect stems each spring, reaching 1–1.2 m tall (occasionally more).
Stems are green smooth and glabrous (having no Trichome or glaucousness), mostly without spiny wings. The stems often lie partly flat by summer but can stay erect if supported by other vegetation. The leaves are very spiny, lobed, up to 15–20 cm long and 2–3 cm broad (smaller on the upper part of the flower stem).
The inflorescence is 10–22 mm diameter, pink-purple, with all the florets of similar form (no division into disc and ray florets). The flowers are usually dioecious, but not invariably so, with some plants bearing hermaphrodite flowers. The seeds are 4–5 mm long, with a feathery pappus which assists in wind dispersal. The plant also spreads underground using rhizomes.
There are two varieties:
Cirsium arvense var. arvense. Most of Europe. Leaves hairless or thinly hairy beneath.
Cirsium arvense var. incanum (Fisch.) Ledeb. Southern Europe. Leaves thickly hairy beneath.
As a subclassification of the "Eudicot" monophyletic group, Cirsium is a "true dicotyledon". The number of Pollen grain furrows or pores helps classify the flowering plants, with eudicots having three colpi (tricolpate).
C. arvense is a C3 carbon fixation plant. The C3 plants, originated during Mesozoic and Paleozoic eras, and tend to thrive in areas where sunlight intensity is moderate, temperatures are moderate, and ground water is plentiful. C3 plants lose 97% of the water taken up through their roots to transpiration.
It is a Ruderal species.