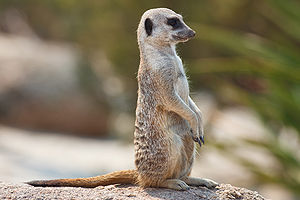 &nbsp

The meerkat or suricate Suricata suricatta, a small mammal, is a member of the mongoose family. Meerkats live in all parts of the Kalahari Desert in Botswana and in South Africa. A group of meerkats is called a "mob", "gang" or "clan". A meerkat clan often contains about 20 meerkats, but some super-families have 50 or more members. Meerkats have an average life span of 12–14 years.
"Meerkat" is a loanword from Afrikaans. The name has a Dutch origin but by misidentification. Dutch meerkat refers to the "guenon", a monkey of the Cercopithecus genus. The word "meerkat" is Dutch for "lake cat", but the suricata is not in the cat family, and neither suricatas nor guenons are attracted to lakes; the word possibly started as a Dutch adaptation of a derivative of Sanskrit markaṭa मर्कट = "monkey", perhaps in Africa via an Indian sailor on board a Dutch East India Company ship. The traders of the Dutch East India Company were likely familiar with monkeys, but the Dutch settlers attached the name to the wrong animal at the Cape. The suricata is called stokstaartje = "little stick-tail" in Dutch.
According to African popular belief (mainly in the Zambian/Zimbabwean region), the meerkat is also known as the sun angel, as it protects villages from the moon devil or the werewolf which is believed to attack stray cattle or lone tribesmen.
Ad blocker interference detected!
Wikia is a free-to-use site that makes money from advertising. We have a modified experience for viewers using ad blockers

Wikia is not accessible if you've made further modifications. Remove the custom ad blocker rule(s) and the page will load as expected.