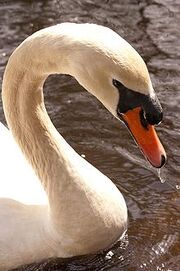 The Mute Swan (Cygnus olor) is a species of swan, and thus a member of the duck, goose and swan family Anatidae. It is native to much of Europe and Asia, and (as a rare winter visitor) the far north of Africa. It is also an introduced species in North America, Australasia and southern Africa. The name 'mute' derives from it being less vocal than other swan species. Measuring 125 to 170 centimetres in length, this large swan is wholly white in plumage with an orange bill bordered with black. It is recognisable by its pronounced knob atop the bill.
__________________________________________________________________________________________
The Mute Swan was first formally described by the German naturalist Johann Friedrich Gmelin as Anas olor in 1789, and was transferred by Johann Matthäus Bechstein to the new genus Cygnus in 1803. It is the type species of the genus Cygnus. Both cygnus and olor mean "swan" in Latin; cygnus is related to the Greek kyknos. The synonym Sthenelides olor has occasionally been used in the past.
Despite its Eurasian origin, its closest relatives are the Black Swan of Australia and the Black-necked Swan of South America, not the other Northern Hemisphere swans. The species is monotypic with no living subspecies.
Evolution
Edit
___________________________________________________________________________________________ Mute swan subfossils, 6,000 years old, are found in post-glacial peat beds of East Anglia, Great Britain.[7] They have also been recorded from Ireland east to Portugal and Italy, and from France, 13,000 BP (Desbrosse and Mourer-Chauvire 1972-1973). The paleosubspecies Cygnus olor bergmanni, which differed only in size from the living bird, is known from fossils found in Azerbaijan.
Fossils of swan ancestors more distantly allied to the Mute Swan have been found in four US states: California, Arizona, Idaho and Oregon. The timeline runs from the Miocene to the late Pleistocene, or 10,000 BP. The latest find was in Anza Borrego Desert, a national park in California. Fossils from the Pleistocene include Cygnus paloregonus from Fossil Lake, Oregon, Froman's Ferry, Idaho, and Arizona, referred to by Howard in Waterfowl of the World pp. 262–265 as "probably the mute type swan".
The largest Mute Swans are found in the Caspian Sea area, on migration,.