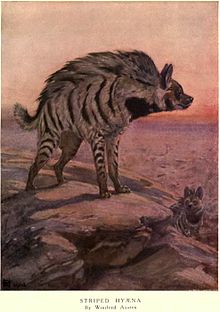 &nbsp

The Striped Hyena (Hyaena hyaena) is a species of true hyena native to North and East Africa, the Caucasus, the Middle East and Middle, Central and Southern Asia. It is listed by the IUCN as Near Threatened, as the global population is estimated to be under 10,000 mature individuals which continues to experience deliberate and incidental persecution along with a decrease in its prey base such that it may come close to meeting a continuing decline of 10% over the next three generations.
It is the smallest of the true hyenas and retains many primitive viverrid characters lost in larger species, having a smaller and less specialised skull. Though primarily a scavenger, large specimens have been known to kill their own prey, and attacks on humans have occurred on rare instances.The striped hyena is a monogamous animal, with both males and females assisting one another in raising their cubs. A nocturnal animal, the striped hyena typically only makes itself visible in complete darkness, and is quick to return to its lair before sunrise. Although it is often considered a cowardly animal (due to its habit of feigning death when attacked), it has been known to stand its ground against larger predators such as leopards in disputes over food.
The striped hyena features prominently in Middle Eastern and Asian folklore. In some areas, its body parts are considered magical, and are used as charms or talismans. It is mentioned in the Hebrew Bible, where it is referred to as tzebua or zevoa, though the species is absent in some English translations.
Ad blocker interference detected!
Wikia is a free-to-use site that makes money from advertising. We have a modified experience for viewers using ad blockers

Wikia is not accessible if you've made further modifications. Remove the custom ad blocker rule(s) and the page will load as expected.